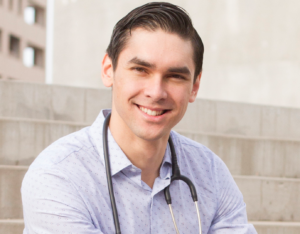 William Mitchell is a Naturopathic Doctor with a primary interest in rheumatology.
He earned his bachelor of science in Kinesiology and Health Sciences from Vanguard University of Southern California and his Naturopathic Doctorate from Southwest College of Naturopathic Medicine in Tempe, Arizona.
His focus in rheumatology stems from his own chronic health struggles and fascination with immunology and autoimmune disease. His special interests include Sjogren's disease, Seronegative Spondyloarthropathy, Dysautonomia, and Lupus.
Dr. Mitchell is a proponent of a concept called "Integrative Medicine" and works alongside rheumatology specialists in Gilbert and Scottsdale, Arizona.
In his free time, he loves being outdoors and is an novice rock climber! He enjoys being active on Instagram and Tik-Tok, sharing education information pertaining to rheumatology and autoimmune disease. His drink of choice is a dirty martini.