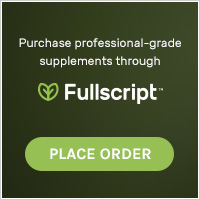 Fullscripts is a platform I use that provides you access to high quality supplements.
Please know that I do generate revenue from sales of supplements.
Providers can set their accounts to discount patrons anywhere from 0% to 35% off MSRP.
This means providers can generate anywhere from 35% to 0% revenue from orders placed by patrons.
This gives the potential for supplements accessible through fullscripts to be cheaper than prices on Amazon, iHerb, Vitacost and other retailers all while ensuring a reliable distributor.
I have chosen to set my account to 25% discount from standard retail prices. This means I generate 10% from any purchases that you make.
You are free to browse the entire Fullscripts catalog or the supplements under the "Favorites" section for supplements I regularly use in my clinical practice.
Revenue generated from Fullscripts directly supports my practice and allows more flexibility in caring for those with economic hardship at reduced consultation fees. It also supports continuing medical education, purchase of medical devices and equipment.
Your support is appreciated. Be safe and healthy,
Dr. Mitchell.