You're looking at a radiograph here of the right foot of a male diagnosed with psoriatic arthritis.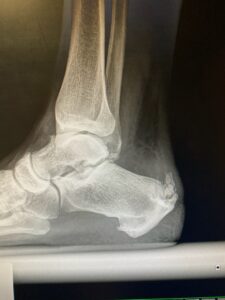 Note the bone spur on the back of the heel, resultant from chronic inflammation of the achilles tendon enthesis.
Psoriatic arthritis belongs to a family of diseases we called Spondyloarthopathy (SpA).
Other diseases under the SpA category include:
Ankylosing Spondylitis

Inflammatory Bowel Disease

Reactive Arthritis

Some of the Juvenile Rheumatisms

And the rare one, Behcet's!
Inflammatory back pain

Peripheral arthritis

Hours of morning stiffness

Severe Eye Pain

Sudden Vision Loss

Rheumatoid Factor Negative

Elevated Sed rates or CRP

Elevated HLA B27

Rashes

Diarrhea

Mouth or genital sores
One of the key features of SpA is what we call "enthesopathy." You probably know that muscles connect to bone via connective tissues called tendons. If you zoom in on the tendon at it's insertion site, there is a structure that attaches the tendon to a bone called an enthesis.
In SpA, patient's often suffer inflammation of the enthesis, causing pain, swelling, stiffness and in extreme cases calcifications and bony growth like you can see here in the image.
We call these spurs "enthesophytes."
Common sites include:
Heels

Elbows

Knees

Hips

Hands
Enthesopathy is thought to be a frequent finding by some experts, with upwards of 60% of SpA patients stricken by subclinical enthesitis. In some cases, it may be the first and only presenting feature at the time, often ignored by clinicians.
Suspicion should be raised by the history, you didn't injure the involved site, no suggestion of overuse, family history, and some of the other items mentioned above.
I don't subscribe to the idea that all autoimmune disease starts in the gut. But we ought to have more suspicion that this is the case for SpA based on translational research with respect to an inflammatory cytokine called IL-23, thought to be involved in the pathogenesis of enthesitis and has origins from gut associated lymphatic tissue.
I've treated a handful of SpA patients with long term antimicrobials with good effect.
This gentleman is having a tough time with very aggressive disease. Methotrexate and prednisone are keeping things at bay, but further therapy with Aprimilest, anti TNFs, and other biologics have not been helpful.
Send him some healing vibes!